They soar gracefully through the air, taking to the skies to hunt their prey as night falls, before eventually landing on Rich Baker's welding table. Whether it's a majestic eagle or a wise owl, the Canadian artist has a passion for birds of prey. He took a somewhat circuitous route into art, traveling through the worlds of country music and theater before finally arriving where he is today – his workshop deep in the heart of nature in Canada. Here, he takes ordinary pieces of metal and transforms them into works of art that would be at home in the animal kingdom.
A Conventional Start
While it would be fabulous to say that he found his artistic calling while out in the breathtaking Canadian wild in his youth, it would be a lie. In fact, the opposite is true: Rich Baker learned to weld on the job when he was 19 and spent several years working as a welder in the industrial sector, specializing in manual arc welding and MIG welding.
Although conceptually still miles away from his current creative work, he knew even then how artistic the skill was: "I am in awe of all the welders working out there in such a wide variety of fields. You may not be welding sculptures, you may be creating quite ordinary things, and yet still it is a work of art," says Baker, explaining his fascination.
Even so, back then he couldn't have imagined that one day he would be living and working how he is today as a welding artist. He had a few more stops to make first, and although they may have taken him away from welding they were nevertheless important and ultimately led him to his true vocation.
Take Me Home, Country Roads!
Although Baker's first foray into welding was somewhat conventional, the years that followed were less so. As a real music lover, he decided to pursue this passion first, so he swapped his welding torch for a guitar and spent the next 13 years touring North America with his country rock band. He was also a successful songwriter and took the country music charts by storm with number one songs and top five hits.
This phase of his life was all about freedom, and this is something that he's kept hold of ever since. After more than a decade on tour, he decided to leave that life behind and return to welding. He realized that working in the industrial sector wouldn't make him happy in the long term, and so he set up his own welding shop. This meant that he was free to hone his skills in the way he so desperately wanted to, and he gradually and quite literally made the transition from country music to heavy metal.
Curtains Up: Welding for the Theater
When he originally opened his welding shop, Baker expected to be working on jobs for the agricultural industry since there were so many farms nearby. So he was more than a little surprised when he was commissioned by a theater organization, the Stratford Festival, to weld figures for their various productions. Thousands of his miniature works of art were sold in the festival store.
For Camelot, for example, he welded little knights in armor, which featured in the battle scenes. "As I've always been a fan of the theater, I was delighted to receive these commissions, even if I had initially expected my work to come from elsewhere. It may not have paid particularly well, but this work helped to reignite my passion for welding and set me on the path to where I am today as an artistic welder," says Baker looking back.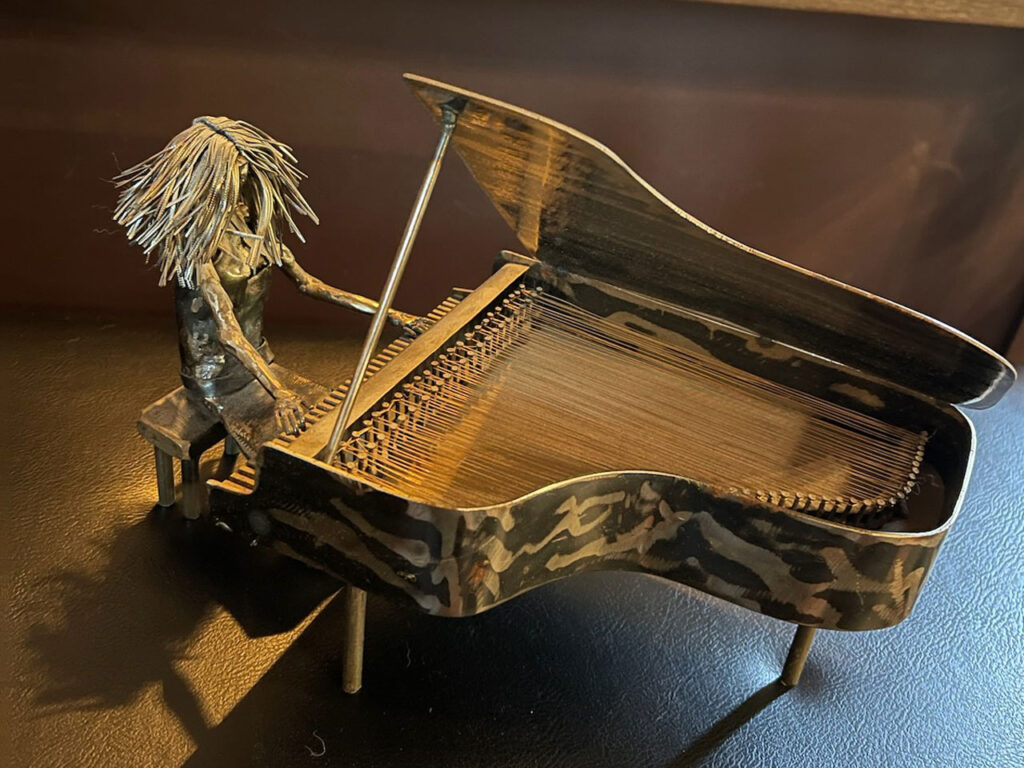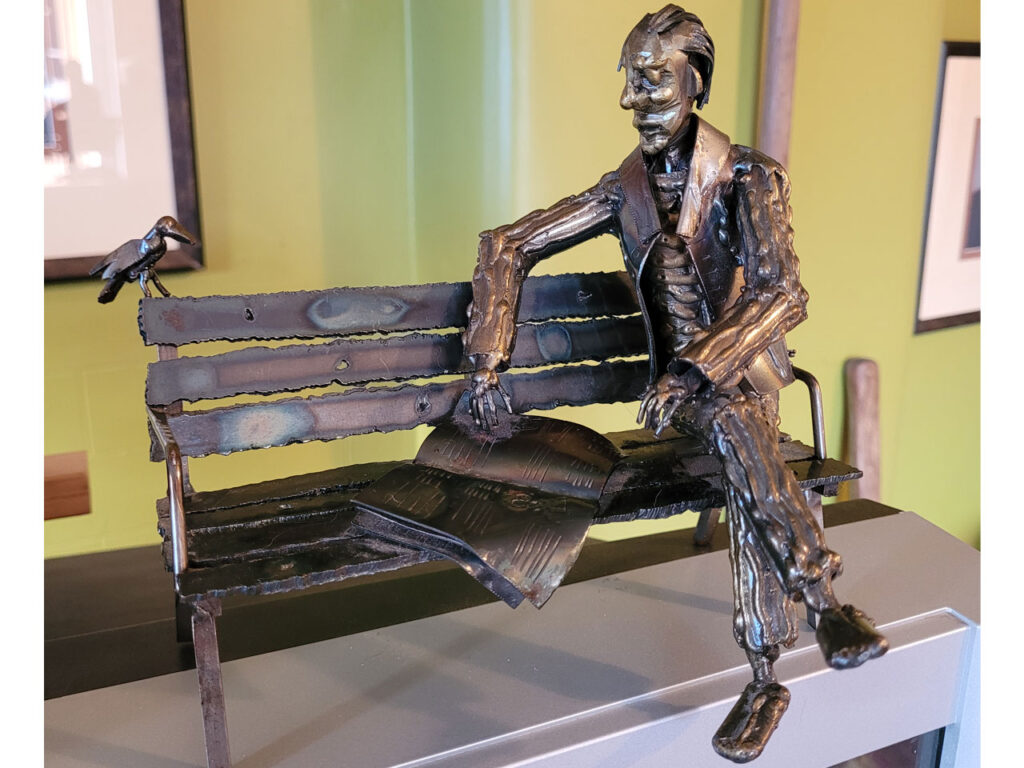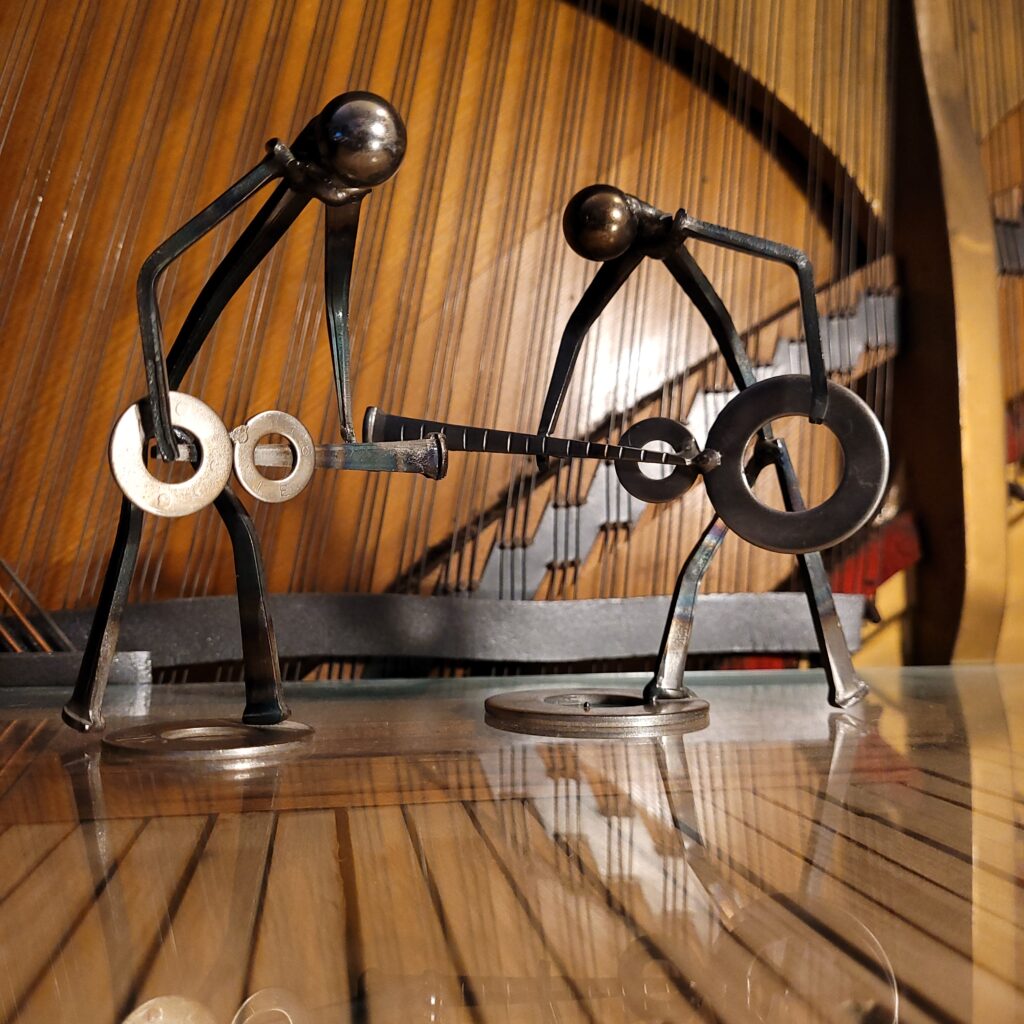 Inspired by Nature
"After welding the theater figures, it was like a light bulb went off in my head and I started to think bigger, imagined bigger creatures," he recalls. And so he bought some sheet metal and began to experiment. During this process, he came to realize that his true passion lies in nature – and that he wanted to use the sophisticated art of welding to capture birds of prey and other wild animals in metal form.
Although there have been some diversions along the way, and these ultimately made him the artist he is today, the love of nature has always been there: "Whether hiking, cycling, or rambling through the woods, I have always loved being outdoors. So to live how I do today, surrounded by a beautiful lake in a nature reserve, is a dream come true for me. Sitting in my garden, I can smell the lake and see all the local wildlife around me: deer, foxes, coyotes, wolves, and of course many birds of prey. I am particularly drawn to these birds, possibly because of my love of flying and my desire for freedom. I get to see falcons, bald eagles, wild turkeys, and red-tailed hawks every single day and it just takes my breath away: that nature, that tranquility, that life."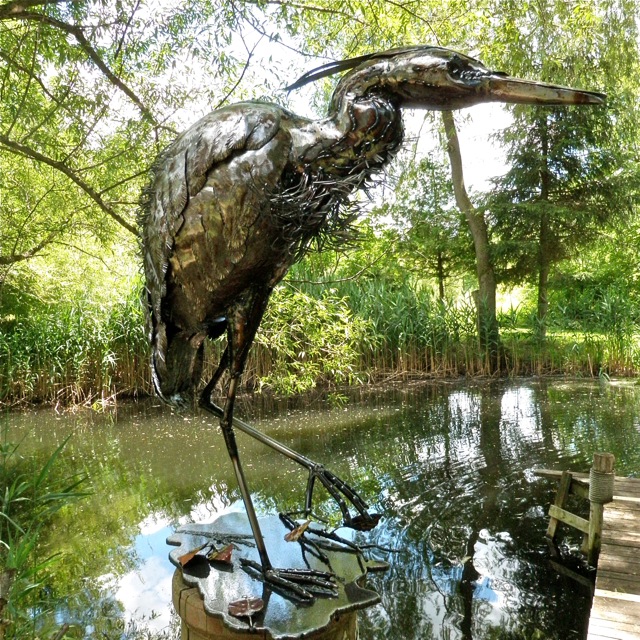 "My Eyes Watch, My Hands Create"
When it comes to his artistic approach, Baker's general principle is "if it has wings, it will be welded," and he is particularly drawn to birds of prey. But no matter which animal he is being inspired by at that moment in time, Baker always relies on his intuition. He doesn't work from a plan. "It might sound crazy, but when I weld, my eyes seem to simply watch what my hands are doing of their own accord. I never question where it comes from. The less I think about what I am currently creating, the better it turns out," says Baker, explaining how he works.
The aim of his "wild welding art" is to capture the grace of the animals, their movements and their general way of being, and in doing so to create an optical illusion. He achieves this by using special methods to create different color and shine effects. He sprays some pieces with water to create natural rust. With others, he uses a spray to add coloring to feathers or manes.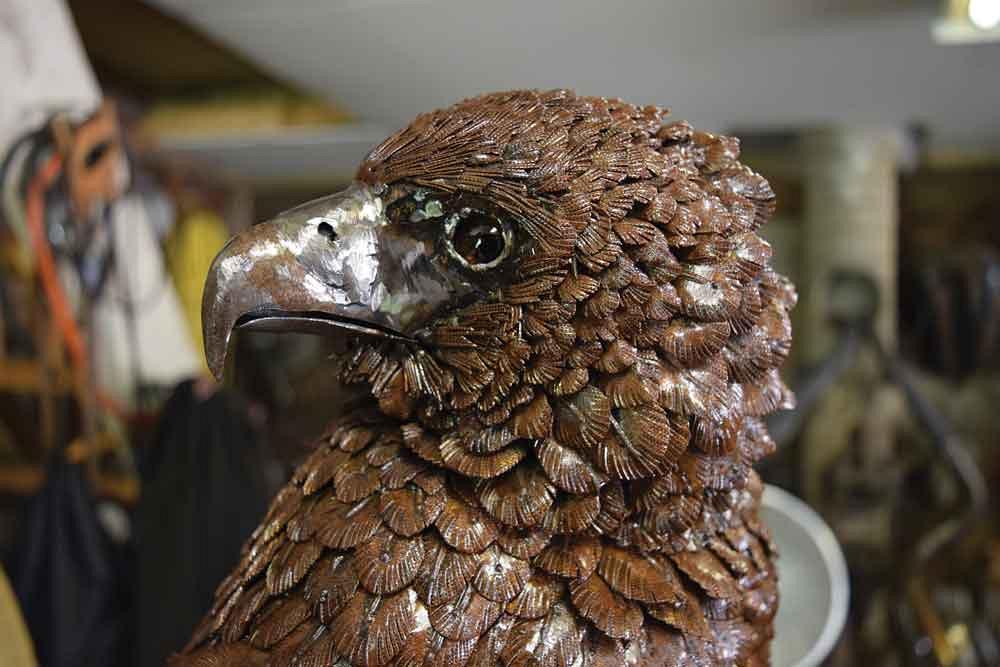 Cutting, Hammering, Welding
Baker never knows what he will create next. "I am a visual person. I'm out in nature, I see something that sparks my curiosity, and I ask myself: How can I recreate that in my welding?", he says, explaining how each of his sculptures comes into being. Usually, he mulls the idea for his latest piece over in his head for a while first. Then he puts up as many photos of the subject as possible around his shop, so he is surrounded by the creature. "In a way, I sort of live with the animal before I start the work," he explains.
Once he has finished these preparations, it is time to get to work on the material, to cut and hammer it into shape before finally welding it. He doesn't need much in the way of equipment, just a welding system, a hammer, and some tongs. The actual process, however, is extremely complex: "Usually I start with the animal's nose or beak. Just this section alone can be composed of 10 individual pieces, which I carefully join together. I then work from there outward," says Baker, giving us an insight into how he works. Depending on the size and complexity of the piece, it can take him anywhere from a few days to a few months to complete.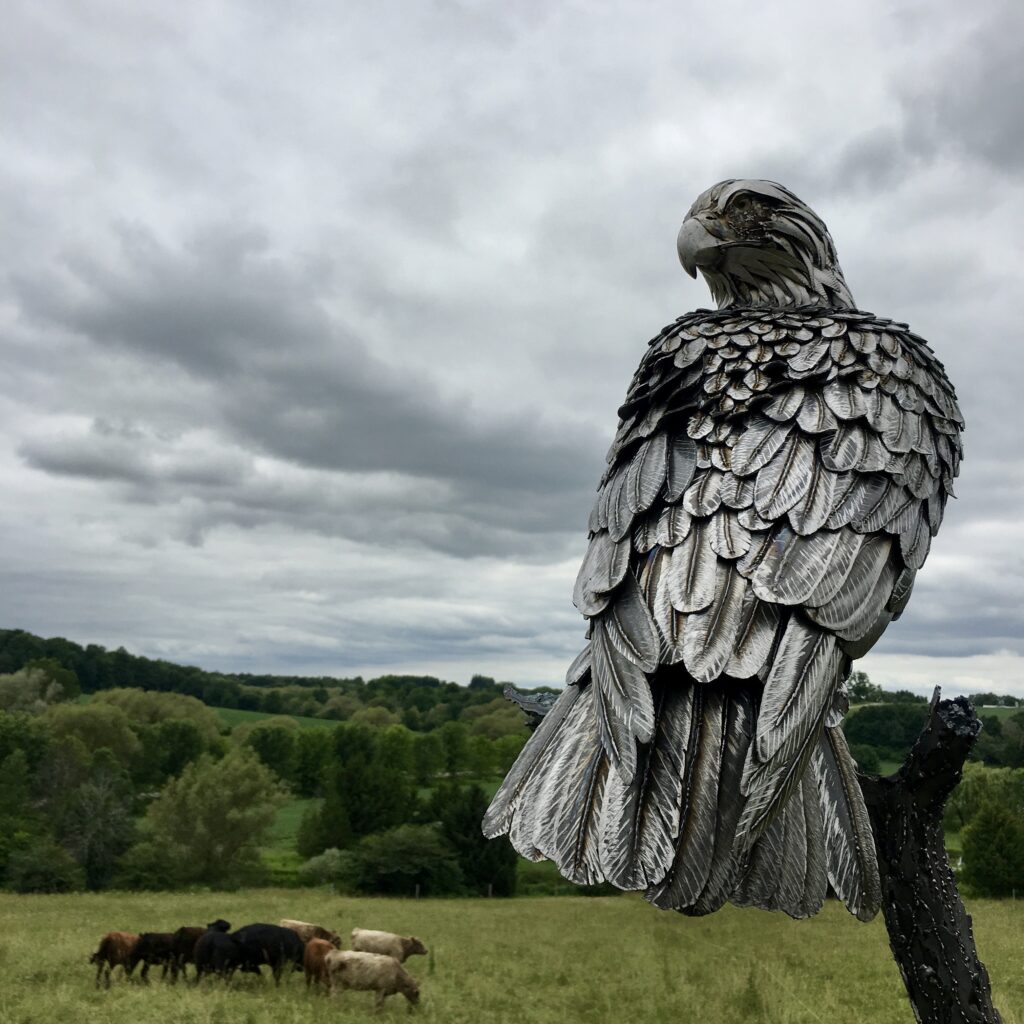 How He Lives Today
Idyllic nature, peaceful tranquility, and impressive wildlife: In Harrington, Ontario, a hamlet of just 20 houses, the world moves at a slower pace. This is where Rich Baker calls home, and it's also where he creates his works of art, just a few steps away from his house in his dedicated workshop. A wonderfully peaceful oasis, but one that doesn't let him forget how important his presence is in the outside world. His website and online shop allow people around the world to marvel at and purchase his creations. He wants to use TikTok to reach the younger generations, and has garnered an impressive 700,000 views with his video about the making of a metal raven. "I may create my pieces here in this beautiful little corner of the Earth, but I release them into the world via the internet, and this enables me to make a living from them," says a thankful Baker.
Every time he reached a crossroads in his life, he took the turning least expected, and yet has followed a path that seemed almost predestined for him and has brought him to precisely where he is today. "It's these surprises that I love about life. I am always excited to see where life takes me, and I'm happy to be taken along for the ride," says Baker. He goes on: "Whether it's music or metalwork, every single one of my creations tells a story, be it in lyrical or sculptural form. Instead of putting what I have in my head to paper, nowadays I hammer it into metal. Whatever I am doing, I am one thing above all else: free as a bird."
"Want more insight into the world of artistic welding? Feel free to read our magazine article on the topic and learn what TIG welding art can do."