Figures from the US reveal that women represent just 5% of the entire welding sector workforce. This makes it all the more interesting to hear what they have to say. What is it about welding that inspires them? What is it like working in a male-dominated industry, and what does the future hold? Welder, social media influencer, and partner of Fronius USA, Laela Holden, answers these questions and also explains why there was a 20-year gap between her first and second attempts at welding.
From Sewing to Welding
Laela Holden's career in welding technology didn't start on a welding system, but on a sewing machine. She used it to sew welding caps, i.e., the caps that welders wear under their welding helmets. This passion project eventually grew into a successful business, Jugz Welding Caps, and she has since amassed 26,000 followers on the company's Instagram channel.
Then one thing led to another. "I was fortunate to get to know a woman through my welding caps social media account who told me about a prize draw on Facebook where you could win a scholarship at a welding school. I was lucky enough to win and so I went to welding school." Laela has since created a second Instagram account, this time on the subject of welding, which now has over 8,000 followers.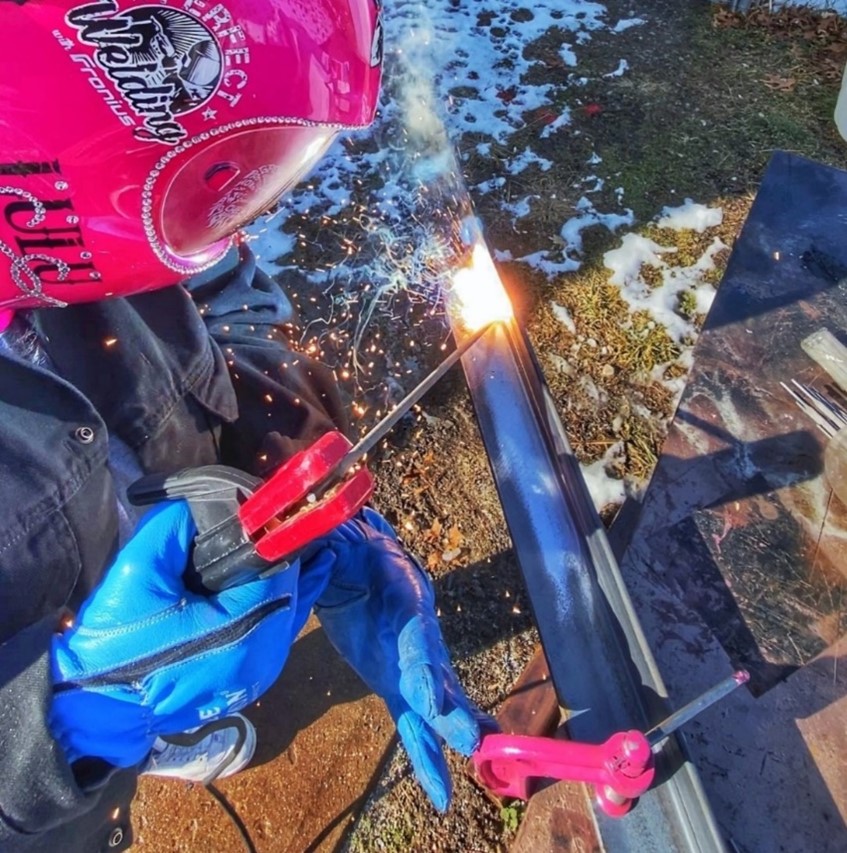 Not a Case of Love at First Sight
Her first experience with a welding system wasn't at the welding school, though, but 20 years earlier. It wasn't a case of love at first sight, though—quite the opposite in fact. The first time she watched someone welding she thought, "that's not really my thing". Nonetheless, she gave it a go despite her reservations. "I put the helmet on and did what they said. The electrode just kept sticking to the metal, and I couldn't get it to arc and burn. I kept trying and after 10 minutes I said, 'that's it, I'm done'."
When she eventually attended welding school 20 years later and needed to prepare for the practical welding tests, she looked for premises where she could weld. And she enjoyed it. She practiced welding every single evening for four hours straight. "I just burned tons of welding rod learning what angle to hold the welding torch at, how to arc it, how to regulate the amperage, and so on." She also watched hours of welding videos on YouTube, and she attributes this to her passing the welding school tests with flying colors.
Fascination that Connects
Through her welding cap business, Laela started getting to know other welders on a more personal basis, and they showed her that welding is so much more than just a job—it's a passion. She loves "creating and constructing things" and was able to discover the artistic side of the trade. "What fascinates me most about welding, the actual act of welding, is how much you can do. For example, with stainless steel you really don't need that much heat from a TIG welding torch."
For Laela, welding means creativity and freedom. "What I love is being able to go into my garage with my Fronius systems and have my own project, like building two conference tables for a law firm in Kansas City. And I can create anything I want. I love the fact that I can do that." Today, Laela welds on a self-employed basis—in addition to her work as social media influencer and her welding cap business. She is still contracted for individual welding projects, but she plans to start working as a full-time welder in the near future.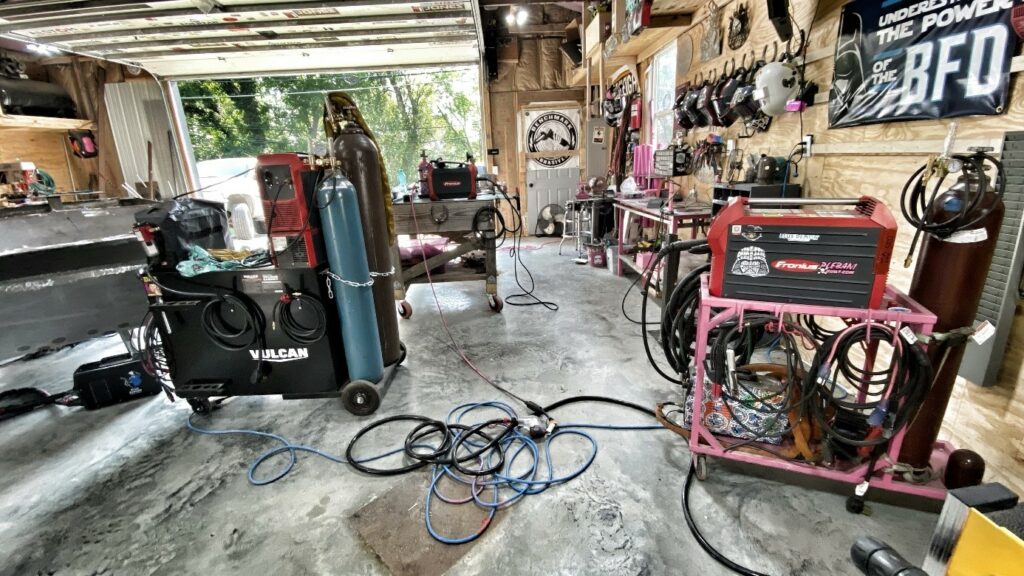 She shares her passion for welding with a handful of other women—and finds their work inspiring, particularly when they create their own jewelry or artwork. She has now built a network with a number of female welding experts and regularly collaborates with them on various projects. These include a water sculpture that they completed together last year, and which was inaugurated on September 11 to mark the 20th anniversary of 9/11.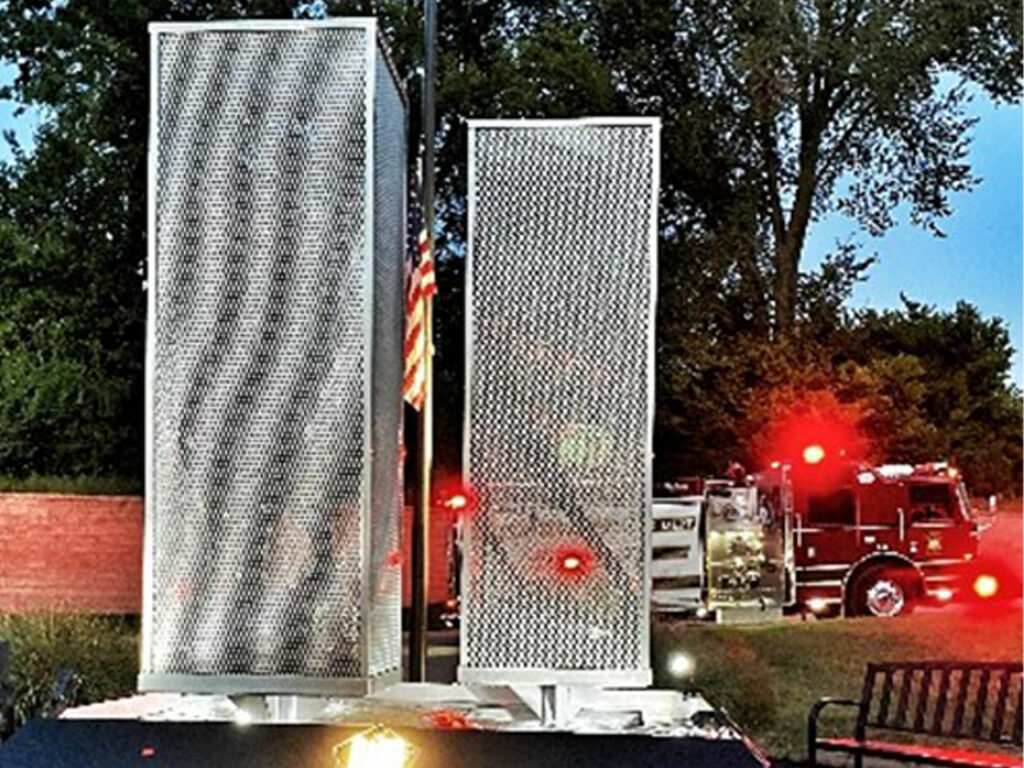 "If He Can Do It, I Can Too!"
Laela ended up working in rather 'male-dominated' industries from a young age. At 18 she started working in a meat factory. "I knew very quickly that wasn't gonna be my life." She then moved into construction, climbing power poles with spikes on her feet and installing and fixing cable lines. As a woman, it was precisely because these industries were 'male-dominated' that she loved being part of them. "I started doing that work when I was 24 years old, and I enjoyed it because it was hard work. My brother started doing it before me, so I followed in his footsteps and thought, 'if he can do it, I can too'. Because I'm just as strong as he is. I'm not going to be held back by gender, basically. No one can tell me that I can't do it. I've been doing it for 14 years."
Welding and Gender Stereotypes
Laela mostly works with male welders in her network. While she enjoys this aspect and works well with men, she has had to learn how to deal with gender stereotypes. Her welding is unconventional—she welds with a glittery helmet and on a pink welding bench. Some of her male colleagues have found this hard to comprehend, but this is precisely what amuses her, because she can use it to draw attention to her gender. She counters statements like, "that's not real welding" with, "I'm wearing this glittery welding hood while welding, so I'm pretty sure it's a proper welding hood." This lack of understanding from males in the industry serves to motivate her: "I think it's great that they get so upset about it. It makes me wanna do more."
This is how she shows that welding is individual and there are no norms. She also shares her creativity while welding on social media channels, and receives a lot of praise and positive comments in the process. She thinks showing the fun side of the industry on her online platforms is important.
Motivating Women to Work in Welding Technology
"If somebody had told me how far I could go in welding when I was 18, I would have started at a much younger age. And I don't think these younger women realize how far this skill set can take them." It is important here to dispel any preconceptions that they may have about working as a welder: "I think a lot of women probably get tunnel vision and only see the 'dirty' work and think the 12-hour production work is all they can do if they learn how to weld. But they don't realize that they could go as far as having their own company and doing their own work and being their own boss, if they want to."
She advocates giving younger generations a better idea about the possibilities at their fingertips and about seeing the fun in work. "You don't live to work, you work so that you can go and live your life. I didn't want my welding to be just about work. I wanted to provide for myself financially, sure, but I mostly wanted to have fun and make a living on the side."
She values the help offered by organizations like "Women Who Weld ", which support women with learning how to weld and finding a job in the industry. Organizations like these and social media influencers like Laela play a key role in showing women where the chances and opportunities in the field of welding technology lie, as well as how to utilize them.
Would like to know more about what's happening on Laela's Instagram account? Then take a look at @savage_blonde_garage and @jugzweldingcapsllc . And stay tuned—in the coming months, our blog series will be putting women in the spotlight!