Guidelines as far as the eye can see. Formula 1 calls them regulations; in welding technology they're standards and specifications. And as in motor racing, when it comes to quality and safety the demands placed on modern-day welding are very high. Welds that can be reproduced at any time and seamless weld data documentation are no longer rare, but rather state of the art. If welding takes place manually, it is often impossible to satisfy these requirements. The solution is automation – even for small and medium-sized enterprises (SMEs).
Consistent welding quality – from batches of just one unit
Although automated welding processes achieve significantly more consistent welding results, many SMEs still struggle with automation. The high acquisition costs associated with welding robots and the need for professional programming skills are at odds with small batch sizes. Cobot welding cells can provide the solution to this problem. Precise torch movements with repetition accuracy down to the hundredth of a millimeter ensure reproducible welds every time – even in series if necessary. The latest generation of intelligent TPS/i power-source technology controls the welding processes and records all welding data as required, which is in turn stored and evaluated by innovative data management software.
Highly paid programmers no longer required
Programming a Cobot is simple and intuitive – there is no requirement for special software or programming expertise. Brief training of just a few hours is almost always sufficient. Simply put: you can learn to teach Cobots in no time at all. Once the component has been fixed in place and the welding job saved, the experienced welder presses the start button and the Cobot gets going. What follows can be performed by almost any operator: clamping the next components and triggering further starts. This not only allows companies to save on personnel costs, but also frees up professional welders for more challenging work. Their job becomes much more attractive – an advantage that should not be underestimated when searching for new skilled workers.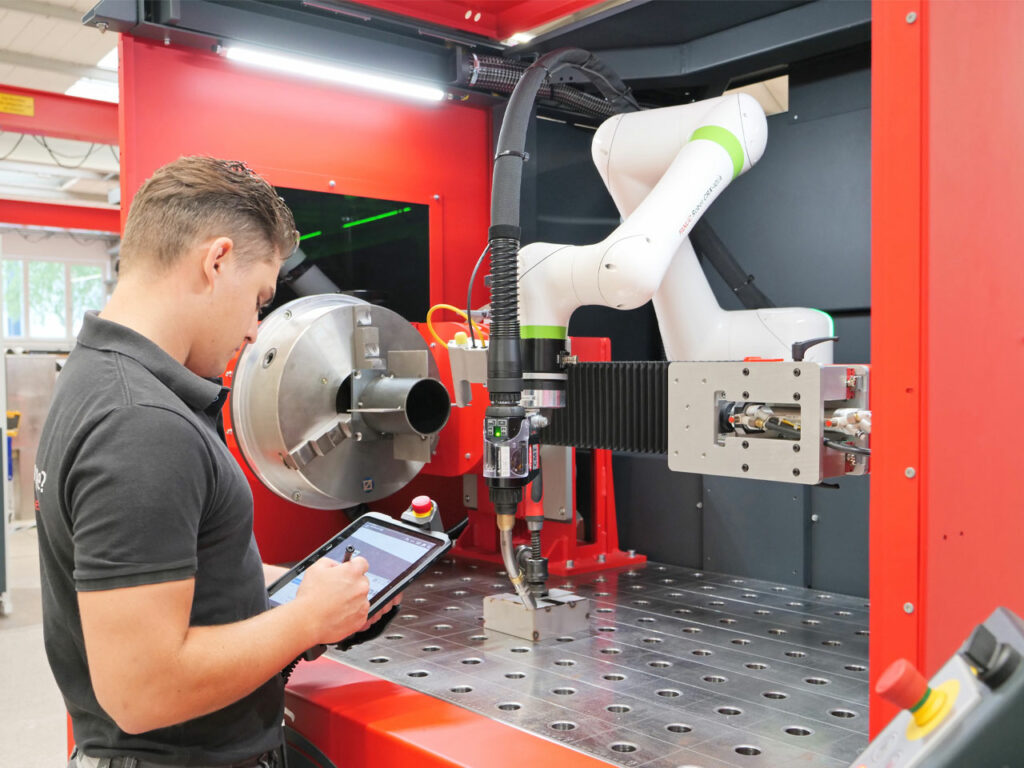 Set the welding sequence at the touch of a button
The first steps are not only simple, but also the same for almost every Cobot. Firstly, the torch head is manually guided to the starting points, position points, and end points of the welding paths and stored at the touch of a button. Equipped with this information, the Cobot software then calculates welding contours and welding sequences. Motion commands (e.g., "pendulum parameters") can be inserted on the touchscreens of some controls by means of dragging and dropping. Programming knowledge is not required for this process either.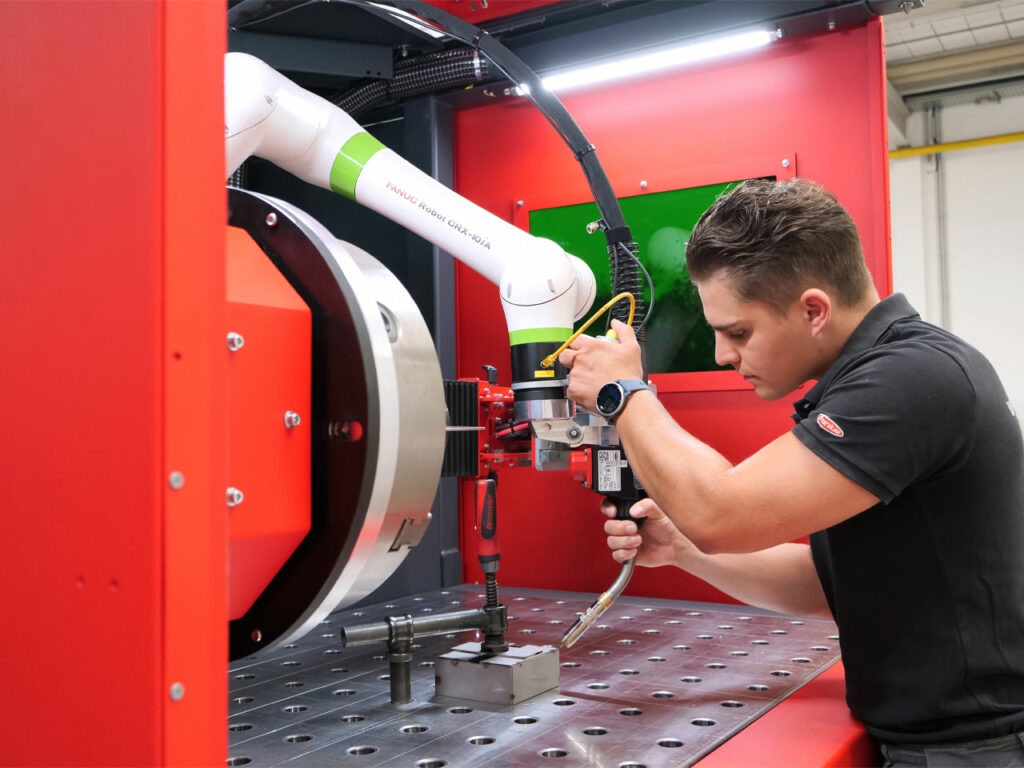 Simulation irons out interference contours
Before starting to weld, it is possible to simulate the entire welding process. Operating in simulation mode, the welding torch moves along the welding path without igniting the arc. If the software detects an interference contour (where a torch head or robot arm bumps into the component and "interferes" with the correct path of a weld), the path can be adjusted in the software. Once a Cobot has been programmed, it welds component after component with consistent quality and at the same speed – around the clock. This one hundred percent consistency is simply not possible with manual welding, even for the most skilled welding specialists.
App delivers the right welding parameters
Nowadays, smart software tools provide convenient support to welders in the identification of suitable welding parameters. Apps like this are ideally fed step-by-step with information on the welding process, parent material, weld seam profile, and shielding gas. Once these data have all been entered, the wizard quickly and accurately calculates the welding parameters required for the welding task at hand.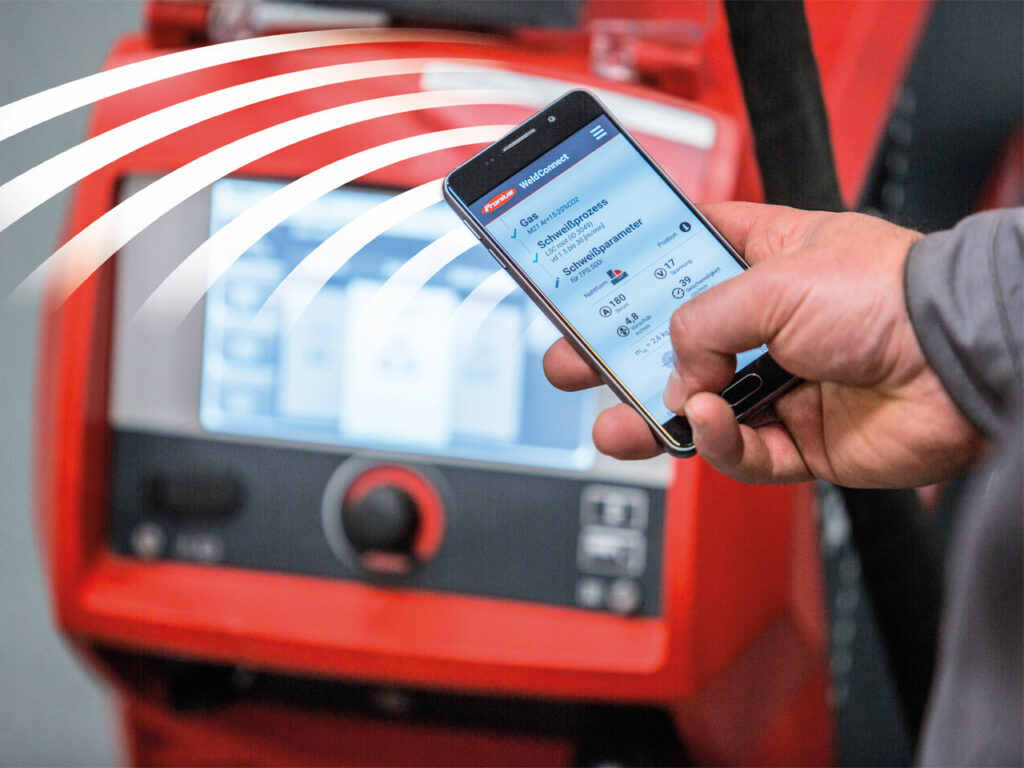 Rapid changeover translates to increased productivity
Cobots are hugely flexible – in terms of both component size and geometry. Most of them are built in such a way that changing and clamping components of different shapes and sizes is quick and easy, saving time and increasing output. Welding tables with hole drillings and suitable clamping sets further support the user in their work. Cobots are available for single and multi-station operation, and are designed not only for welding small production series, but also for batches from just one unit. This makes them the ideal solution for companies who don't employ programming specialists, and who manufacture a wide variety of components in small batches.
Fronius Cobots
To make sure our Cobots satisfy the diverse requirements of metalworking companies, our portfolio includes a variety of models. The CWC-D cell ("D" = double) is a Cobot welding cell with two stations that enable setup during productive time, whereby the next component can be clamped in parallel to the ongoing welding process, which is particularly efficient. In two-station operation, the maximum component length is one meter. If components up to a length of two meters are to be welded, this can take place easily at the touch of a button: simply press the button, the partition disappears, and the system is ready for one-station operation and larger components.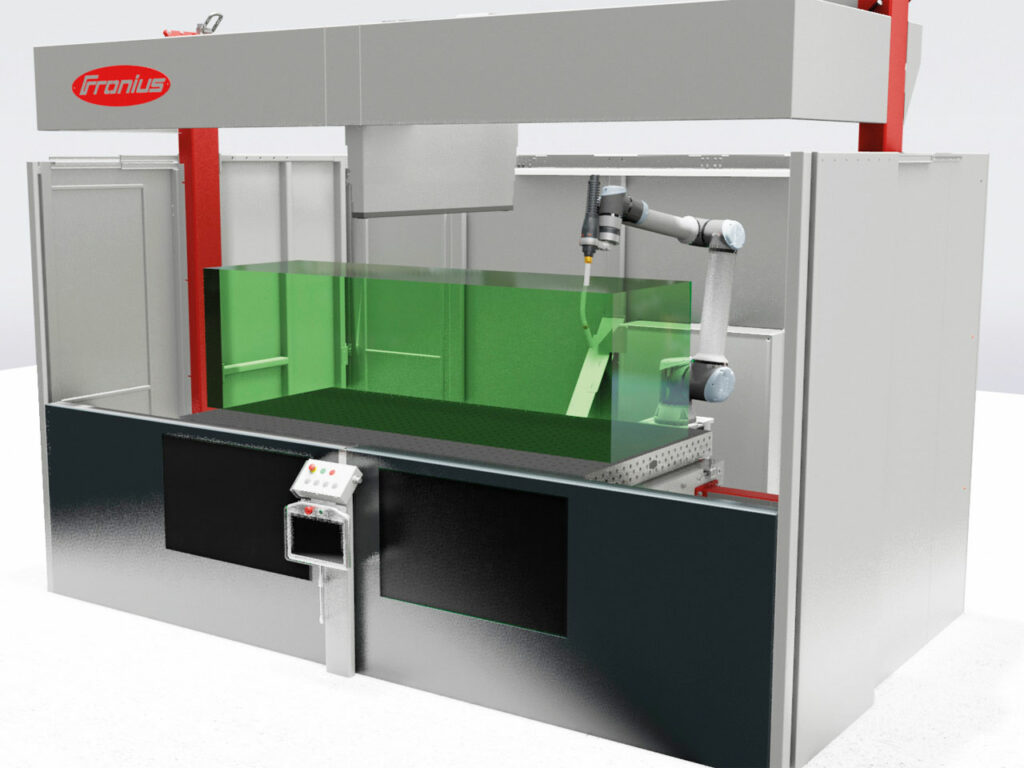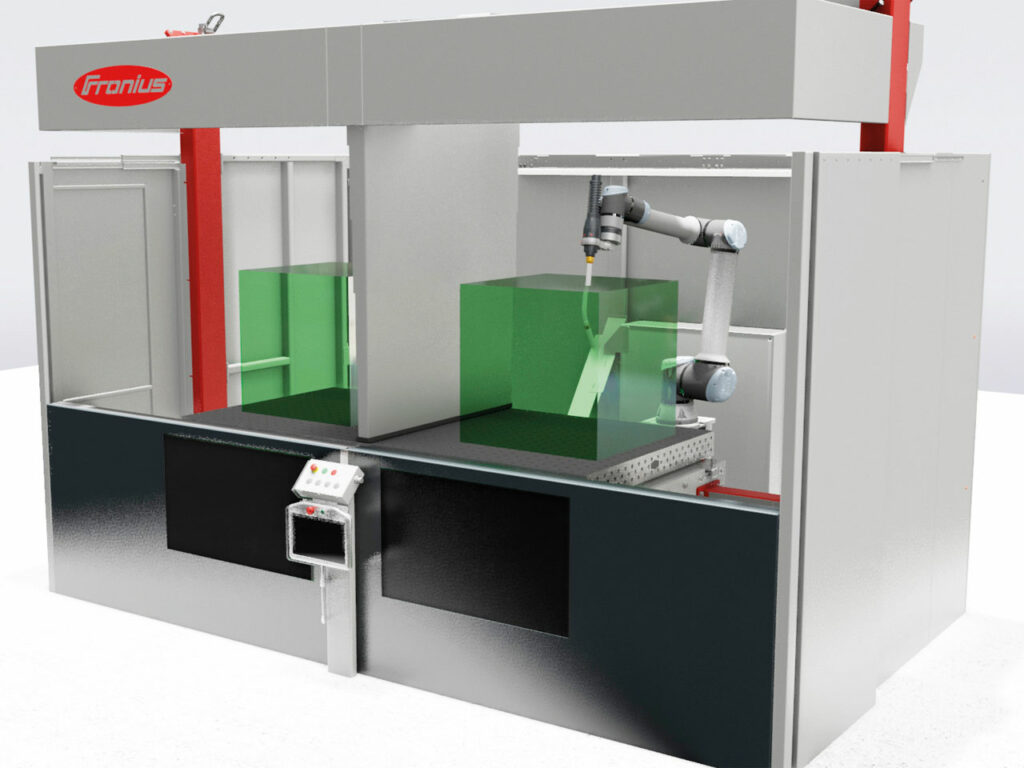 The somewhat smaller CWC-S model ("S" = single) is designed exclusively for single-station operation. Equipped with a rotary unit and tailstock, it offers additional flexibility for component geometries – customers can produce both longitudinal and circumferential welds with this equipment. The standard working area is 1,500 x 1,000 x 700 mm, or 860 x 450 mm if cylindrical components are welded. In addition to the standard equipment, users can also select special starter packages such as process training, spare parts packages, test welds, the WeldConnect app, or the Weldcube data management software.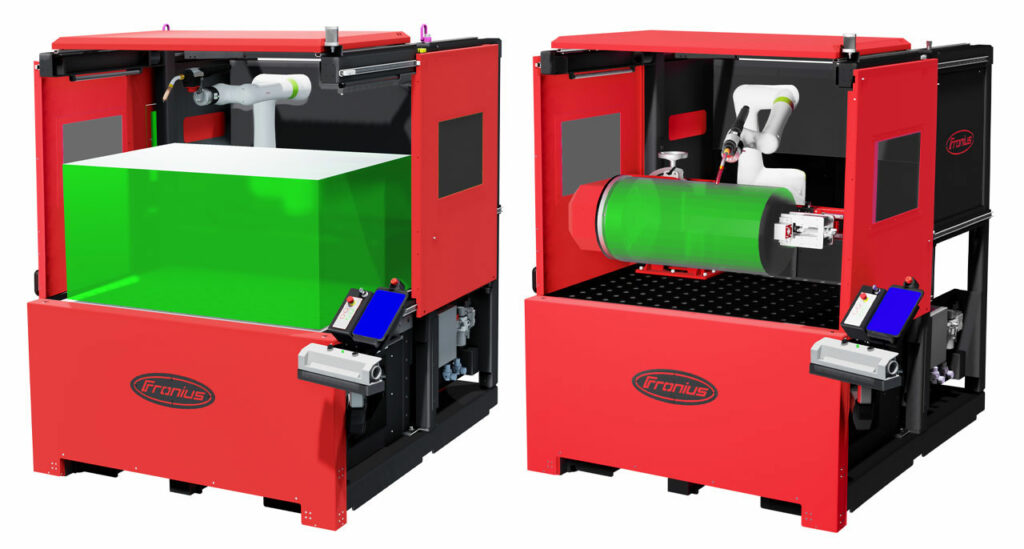 Safety is paramount
The health and safety of our welding specialists is hugely important to us. Pneumatic glare shields, sliding doors with screens, and fume extraction systems are all standard with Fronius Cobots and protect against physical injuries, eye injuries, and damage to the respiratory tract. Our Fronius Cobots therefore guarantee not only efficient welding, but above all safe welding.