What is to be done when large quantities of welded parts have to be produced? Robotic welding cells are the answer, even though the requirements placed on the design of these cells are enormous, as parts of different shapes, weights and sizes demand specific solutions.
And yet – the main tasks carried out by robotic welding cells are always the same, irrespective of the part. For example, part positioning, changing the contact tip or cleaning of the torch are all more or less standard functions. It's therefore not necessary for designers to keep on reinventing the wheel – and sustainability comes into play here as well – since when designing modern robotic welding cells, they already have access to an array of existing modules. The only thing the specialists need is a platform, in other words a modular system of standardized and specialized components.
Powerful engineering software
Powerful software packages containing extensive libraries of standard modules for all robot peripherals are already available for the engineering of robotic welding cells. The designer is not constantly having to recreate standard elements, such as robot travel paths, stands or rotary tables, leaving them free to focus on solving the customer's most pressing requirements. For example, developing a suitable clamping device or defining the welding sequence that will prevent part distortion. Another advantage of modular systems is their high level of cost effectiveness, as spending less time on development work saves money, which ultimately reduces prices and the financing needs of the customer.
3-D design of a robot welding cell incl. component, rail vehicle construction
Modules and their functions
The modules satisfy the individual requirements of customers and fulfill the important functions of a robotic welding system. They are split into assemblies, sub-assemblies and components, and can be prepared in advance with one eye on future demand; virtually for the engineering software library and physically to meet the production needs of the robotic welding cells.
Examples of welding cell modules
/ Welding module (welding power sources, wirefeeder, welding torch, etc.)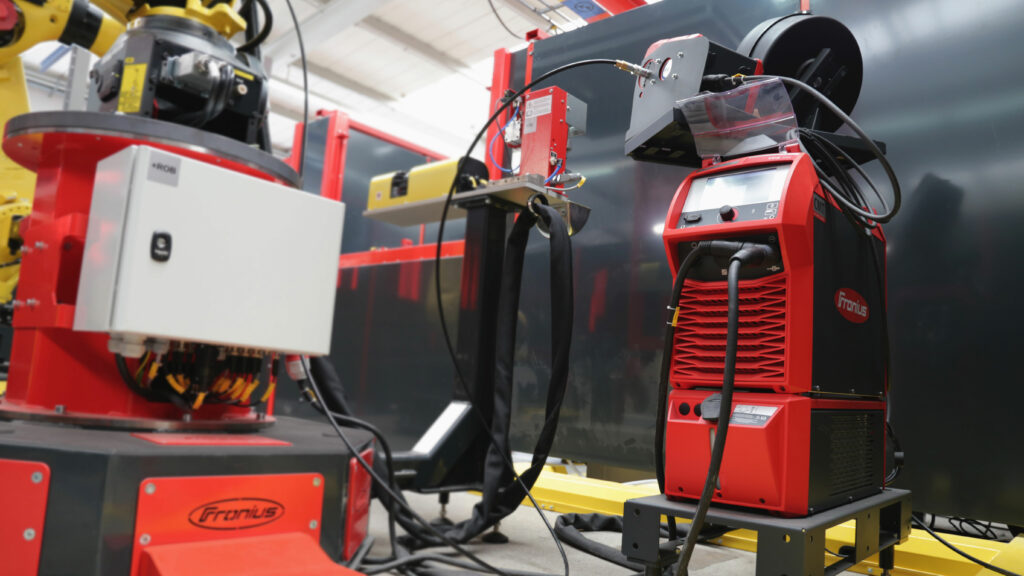 / Part positioning module (positioner, handling robot, travel path, C-boom, stand, etc.)
/ Robot positioning module (linear axis, C-boom portal, etc.)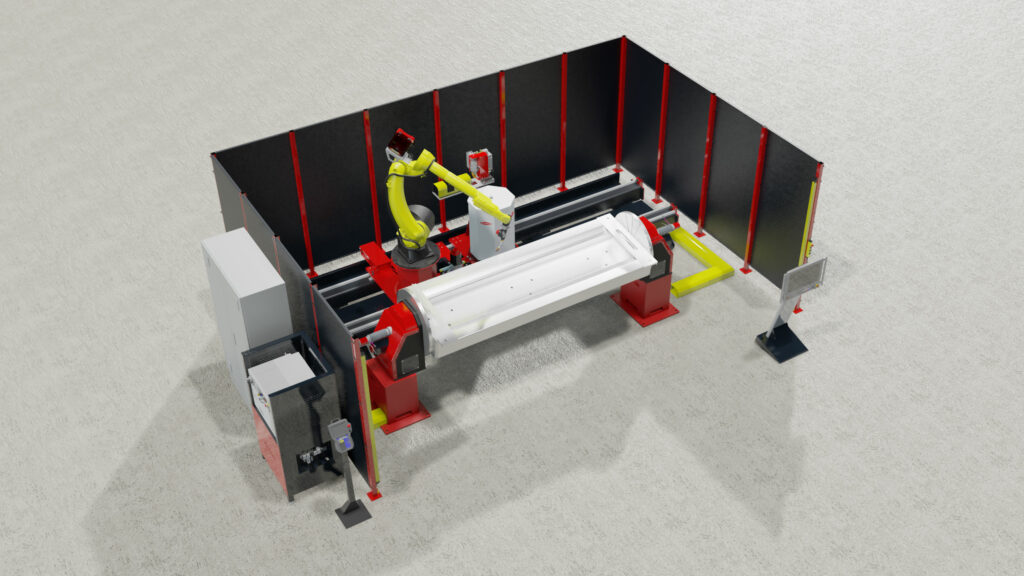 / Part feeding module (lock, conveyor, etc.)
/ Safety module (protective fence, light curtain, photo-electric guard, roller blind, etc.)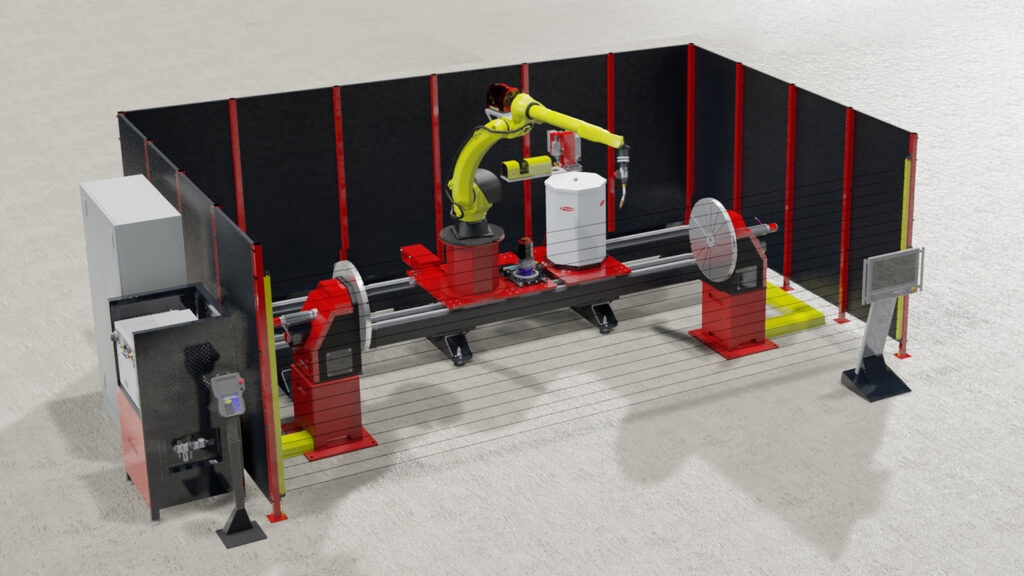 / Welding torch positioning module (robot)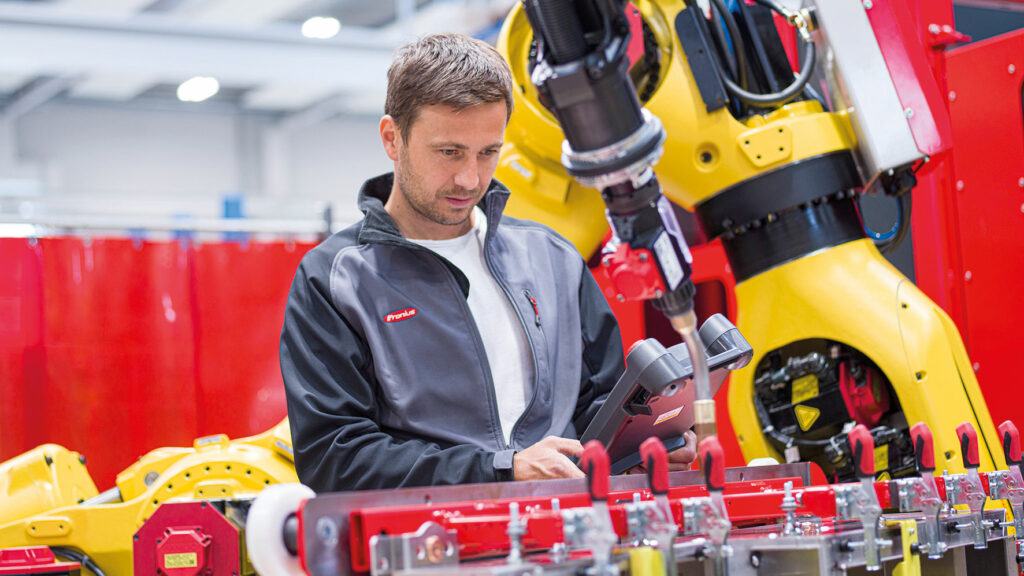 / System control module (switch cabinet, HMI system controls)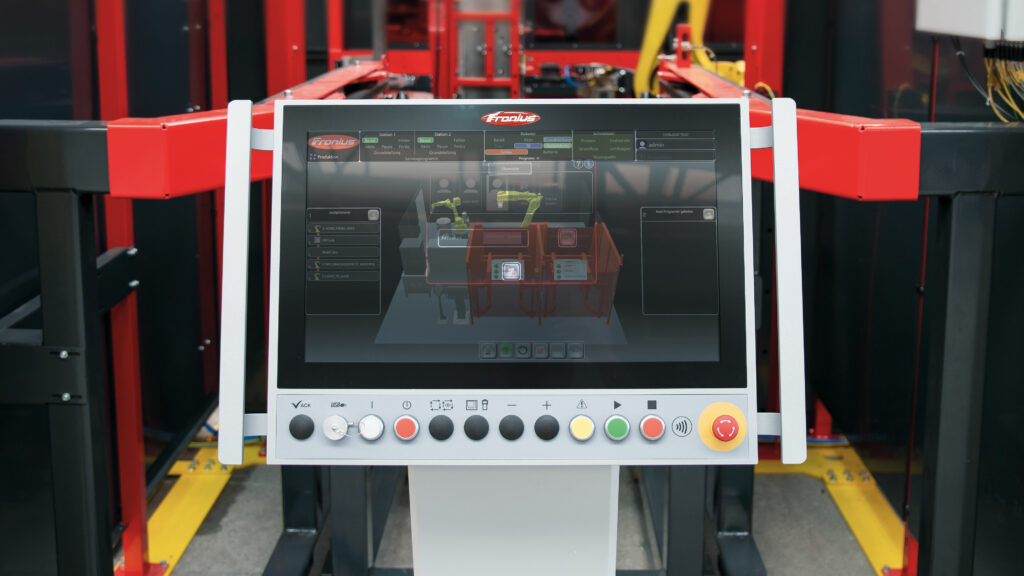 A variety of options can be used to extend the functions performed by the modules. These options include viewing windows, cable rollers for remote controls, glare protection variants, etc.
Welding robot and dimensioning
The typical advantages of a welding robot are its precision and excellent repeatability when welding. If you want to enjoy the benefits of flexibility regarding parts and welding sequences, in addition to high-quality welds, then a little bit of advance planning in terms of design, reach and load-bearing capacity is needed.
If a small footprint is combined with narrow robot arms and a long reach, then welding will also be possible in confined spaces. Typical examples of this are axles, holders, seats, exhaust systems, chassis frames, crane superstructures, tank and pipework components.
If you are using heavy welding torches, as you might when carrying out resistance spot welding or LaserHybrid welding, then robots with a high load-bearing capacity will be required.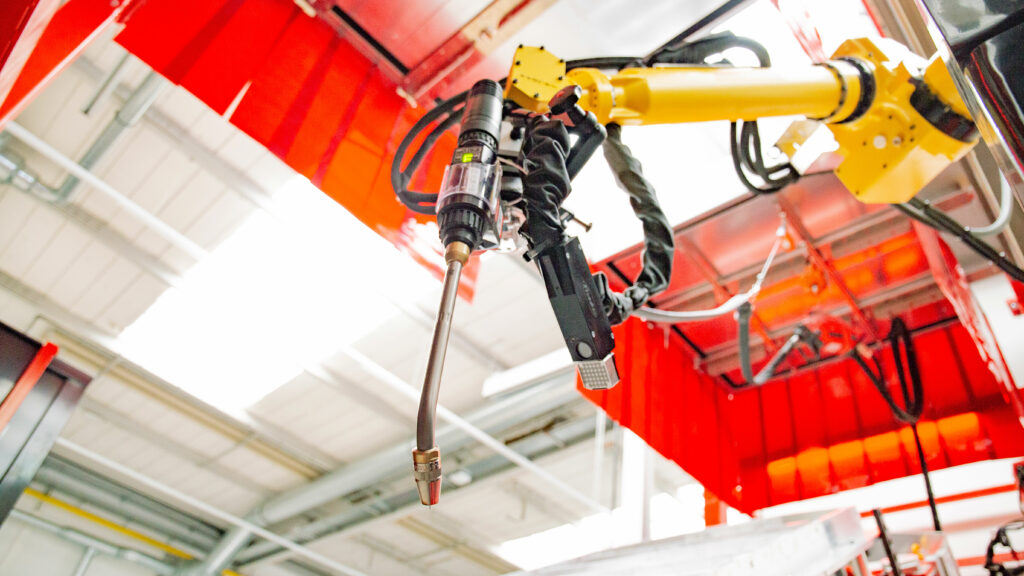 Preventing cable faults
Articulated robot axes with hollow shafts enable control, sensor, and supply lines to be fed through the shaft. This prevents the cables bundled together in the hoses from winding themselves around the front robot axes during complicated motion sequences. Another advantage of the hollow shaft: potential cable faults can be simulated using software.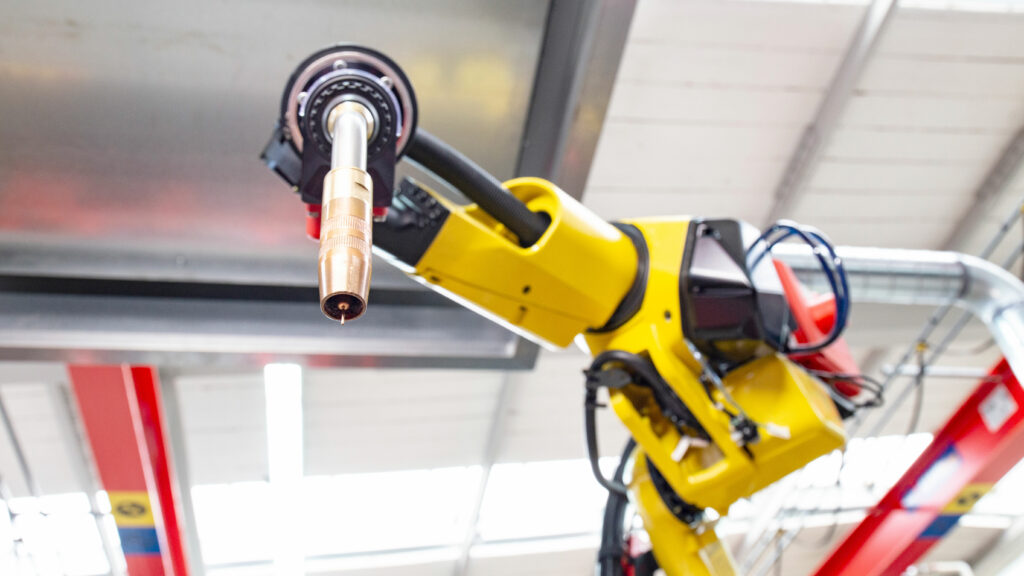 Everything under control
All the modules in the robotic welding cell must interact very precisely to guarantee perfect welding results and the safety of the operator. This is usually achieved using central system controls, which control and monitor all the peripherals, such as robots, power sources, positioners, racking systems, torch cleaning or light barriers.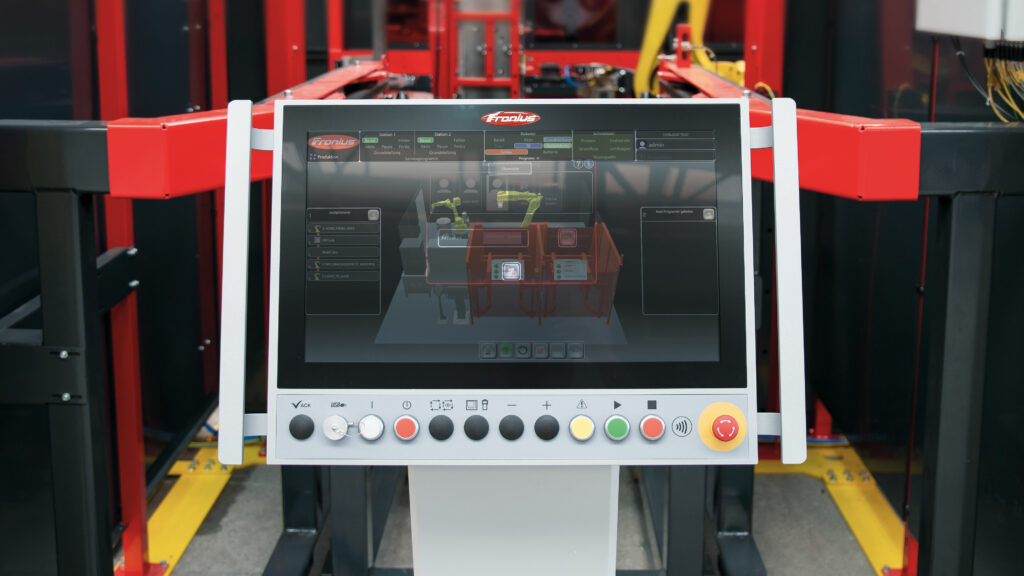 …
Program editors, welding data control and user administration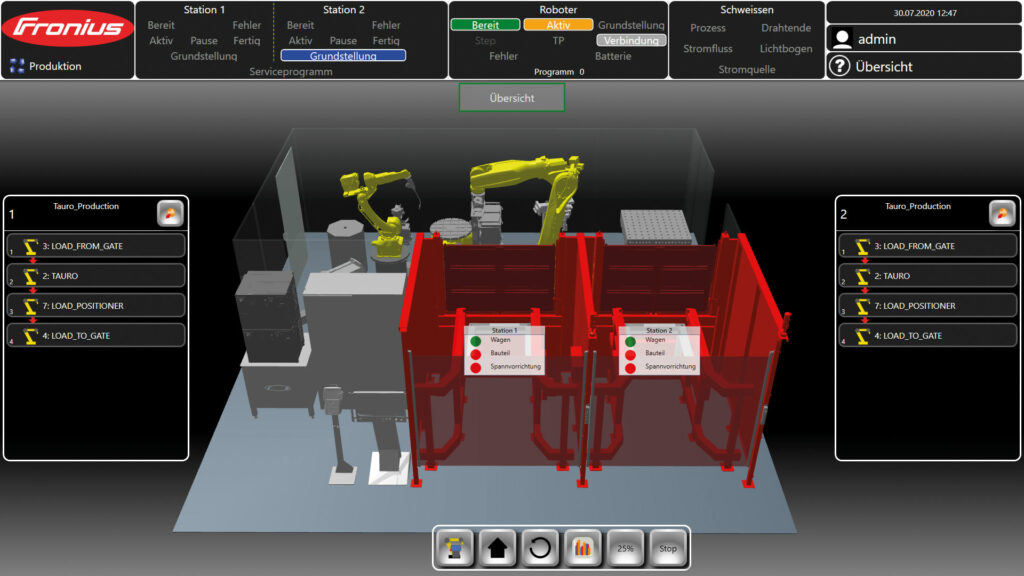 / Perhaps the most compelling feature of modern high-tech system controls is the intuitive program editor. Welders use them to program the individual steps in the program sequence, which are saved as sequence strings and then allocated to individual processing stations.

/ Three-dimensional real-time displays visualize all robot movements and welding operations on the monitor. The displays provide a detailed overview of the status of peripherals and protected areas – all in real time!
…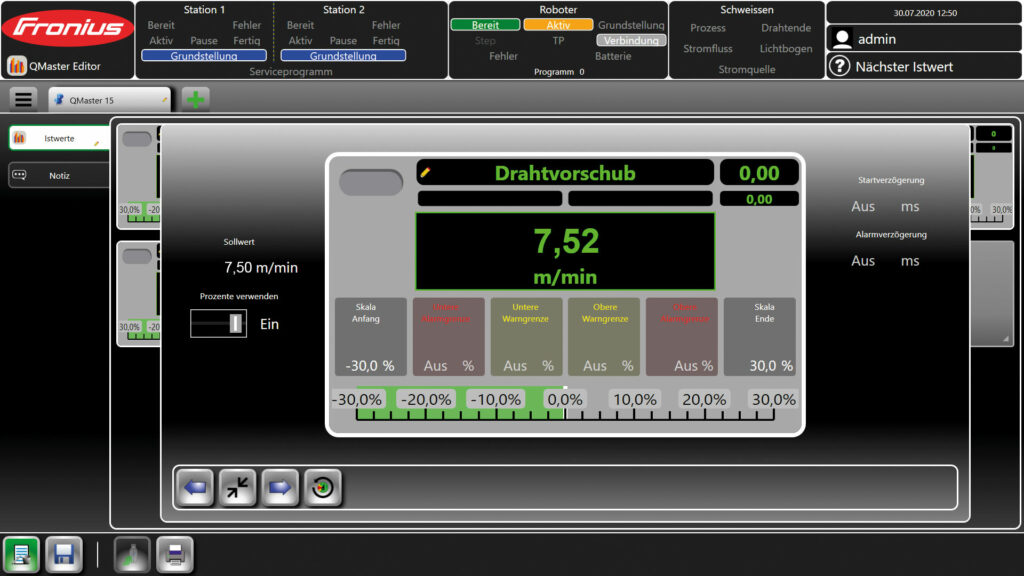 / Control functions allow alarm thresholds and fault limits to be defined in advance. Time delays for start and alarm can also be specified.
…
…
…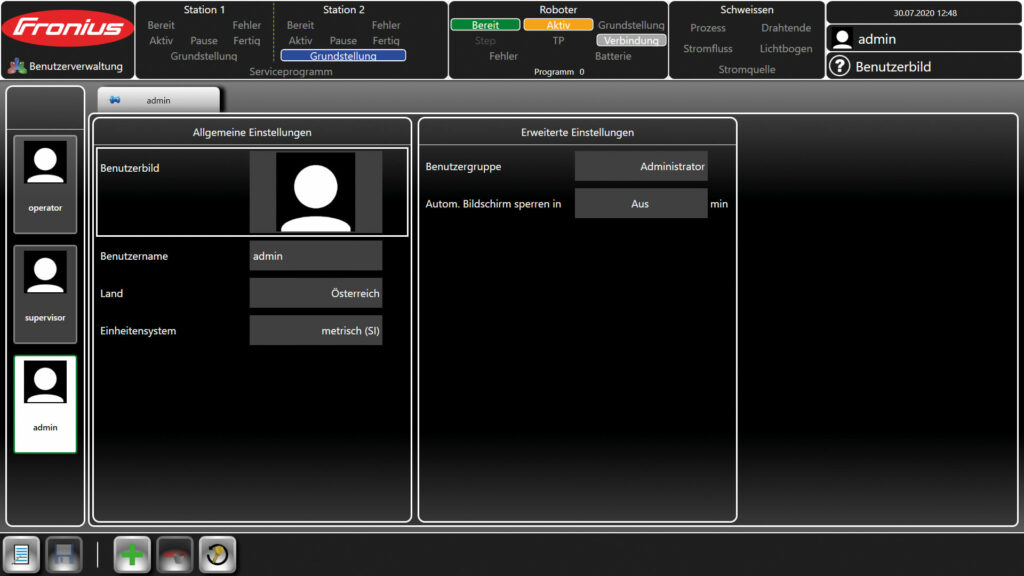 / Users are created and edited in personalized user administration systems; rights are assigned at a task-specific level. Operating languages and systems of units can be selected as required, with personal passwords protecting the saved settings.
…
Standard functions
Many system controls include standard features such as user and program administration, a variety of fault indicators, cycle and part counters, system status displays, and a facility to switch languages. Interfaces to widely used ERP systems and a web API for transferring data to third-party systems are also frequently provided.
Offline programming: lower downtime costs, higher output
Welding efficiency and output are key indicators for the cost effectiveness of production processes. But how can their values be increased? One option is the offline programming of welding sequences – in other words independently of the robotic welding cell. This enables them to be optimized in detail in advance.
Robot programmers then no longer have to wait for the current welding operation to end. Instead, they can teach the robot from a PC or laptop that is not linked to the robot, and then simulate the entire welding sequence offline, weld seam by weld seam.
Powerful offline programming and simulation software detects axis limits, calculates start and end points and approach paths, and independently sets positioning points. Interference contours are visualized and torch positions corrected. And all this is done in advance, not while welding is in progress.
Autonomy and safety
The digital networking of all modules and controls guarantees fully automated sequences, providing a high degree of autonomy in the workflow, both in terms of part handling and welding. There are fewer manual activities, and the operator can focus on what's really important. A further advantage of an autonomous system is the increased level of safety for the operator. A fume extraction system, protective housing, light barriers, and Emergency Stop buttons prevent injuries and damage to health.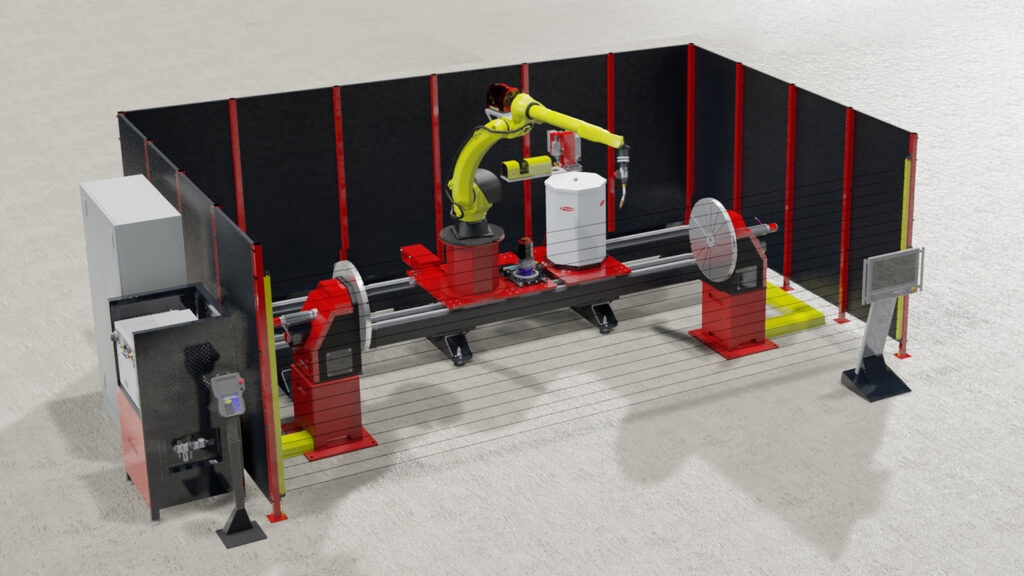 Groundbreaking technology
Fronius has standardized the engineering around robotic welding cells and has adopted a platform approach. Individual modules carrying out specific tasks guarantee a high degree of flexibility regarding the size, shape, and weight of parts. Simply brilliant: the HMI-T21 RS system controls and the Pathfinder® offline programming and simulation software. The functionality and ease of use of the HMI T21 RS in particular are groundbreaking. This marks the launch of a totally new generation of system controls. For its part, Pathfinder sets new standards in offline programming and welding simulation.