Sébastien Devant is the co-owner of the robot integrator ACG in France as well as the head of its automation and robot division. In this guest article, he explains what robot integration is all about.



Why do you need a robot integrator?
If, for example, an auto manufacturer or supplier needs a new production system for car doors, there is a lot to consider; the body parts must be processed in the correct sequence using the correct method for each step. For this to work, many components must work together seamlessly – including industrial robots that relocate the parts and bring them into the correct position, but also welding robots and welding machines. To assemble and coordinate all system components required is a responsible task and requires a great deal of effort. The manufacturer is happy to pass this on to a specialist: the robot integrator.
Robot integrators design and build production systems – from small assembly stations to entire production lines with fifteen robots or more. In doing so we integrate robots into a production environment consisting of different machines. The customer is therefore able to save time and effort by obtaining everything they need from a single source, while also benefitting from our experience. As an integrator, we also assume full responsibility for the entire system, which minimizes the customer's risk enormously.



How does such a project work in practice?
It all starts with planning. Throughout the entire planning process, integrators must keep a close eye on three criteria:

Quality
Reliability
Cycle time

Each system is unique and precisely tailored to the customer. Understanding the customer's requirements and making them transparent is the major task at the beginning of every project. The approach taken varies from industry to industry.
In the automotive industry, there is a special product design specification. This is a very detailed form that the customer fills out and in which all necessary aspects are included. For example:

Existing hardware and software architecture
Security systems
Application examples
Required sensors
Required system performance
User interface requirements

The situation is different in the metalworking and capital goods industries, where such specifications are hardly used. In these industries we help the customer to work out and define the specific requirements. We then propose a system that is finalized with the customer.

What is important when installing a robot system?
Installation and start-up at the customer's site must be carried out quickly. Nevertheless, the correct adjustment of the welding parameters on site requires some experience and sure instinct, so that the required quality is also achieved during operation.
In order to ensure smooth operation with high-quality output, we offer on-site training to the customers employees. Of course, we are also available afterwards for advice and support, for example if a system restart becomes necessary in the event of problems. Even if the customer cannot or does not want to carry out maintenance measures themselves, ACG provides the necessary support.

Welding tests for assured quality
Quality is a sensitive issue, especially in welding applications, because welding is a complex process and success depends on many factors. Whenever a new process or a special material such as aluminum or stainless steel is being used in a project, we test the welding of the components in advance. In our ACG test laboratory, we have various robot welding systems with Fronius welding equipment at our disposal for this purpose. If the use of a new welding method is being considered, our welding technology supplier Fronius France carries out these tests on our behalf.

How do we select our welding equipment?
Welding is considered a "special process", which shows the complexity of this joining method. That is why, when selecting welding equipment, we pay special attention to:

Simple setting of parameters
Simplicity of maintenance
Stability of the Tool Center Point.

A welding system must be easy to operate, both for setting the parameters and for maintenance. Ideally, assistance systems should support the welder; a teach mode can save time when programming the robot, and stabilizers for penetration and arc length ensure the high quality of the weld seam in the LSC and PMC welding processes, for example. For robot applications, it is also important that the Tool Center Point (TCP for short) is kept constant.



Tool Center Point (TCP) The TCP is the working point on the tool of a robot. This can be the middle between two gripper fingers or the tip of the wire electrode on a welding robot. The TCP is the most important reference point for programming the movements of the robot.


If the robot collides with the component, this point must be painstakingly reprogrammed if the components move slightly. The Fronius machines we use, however, have a magnetic CrashBox, which minimizes the impact force immediately following the collision, preventing damage to the torch body and drive unit. The extremely high reset accuracy of +/- 0.05 millimeters means that production can continue immediately.
We work with Fronius welding equipment because it exactly meets our needs. By using equipment from the technology leader in the field of robot welding, we can ensure the reliability and quality of our systems. Thanks to many years of cooperation, we have a very close relationship with Fronius, the technicians always support us quickly, and we can ask them anything. It goes without saying that our customers also benefit from this.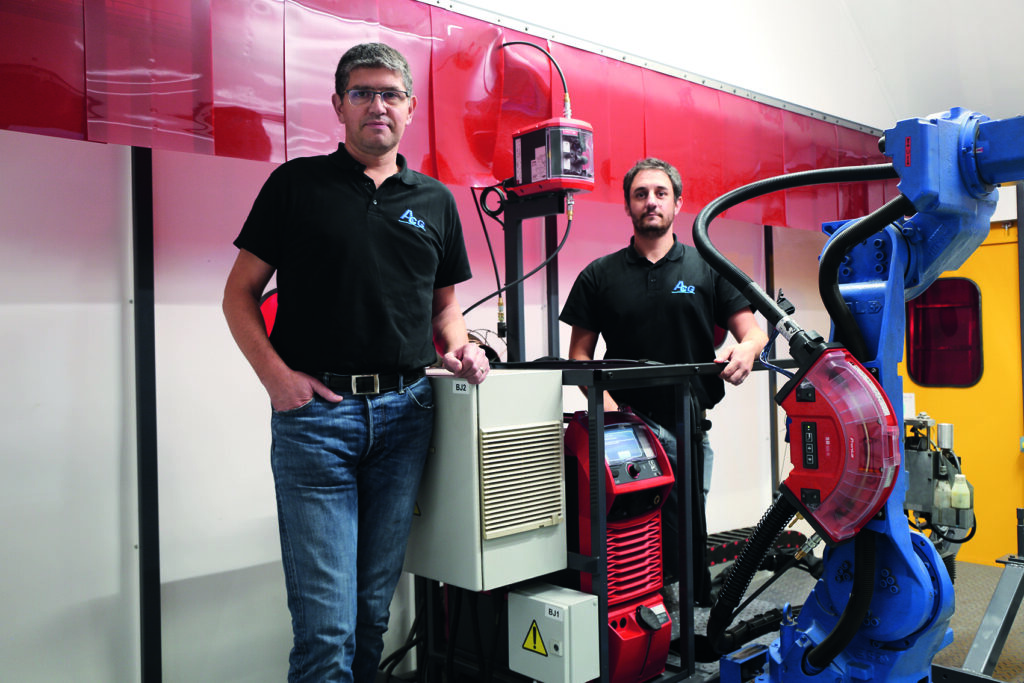 The specialist: Robot integrator ACG Automatismes C.G., based in Normandy, has been building production systems with robots that grip, relocate, assemble, and above all, weld for 32 years. Fifty percent of ACG's systems are used in the automotive industry, but ACG's customers also come from the food, pharmaceutical, cosmetics, metalworking, and aerospace industries. In the field of welding technology, the robot integrator has been working with Fronius for over 25 years.